A Tribute to Gene Rayburn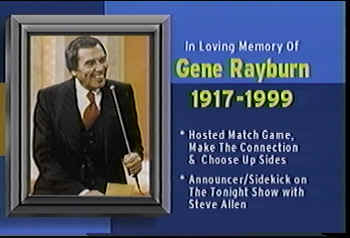 Today, at approximately 10 AM, I logged onto my "second home", the alt.tv.game-shows newsgroup, and was greeted by the news that Gene Rayburn had died on Monday at the age of 81, only 2 1/2 weeks away from his 82nd birthday. Thus, I thought it only fitting to write a tribute in heartfelt memory of this extremely talented man.
Without a doubt, Gene was a comedic genius. One look at any of his early works ("Make the Connection", the original 60s "Match Game", etc.) shows a quick-witted host who truly enjoyed what he was doing, which is an important characteristic for any game show host to have.
However, it wasn't until the debut of "Match Game '73" that we saw the full extent of his comedic talent. Gene himself told colleague David Hammett that he "liked doing spontaneous humor", and this was the show that truly gave him the opportunity to do just that. We saw him trade funny exchanges with Brett Somers and Charles Nelson Reilly, Richard Dawson, Betty White, et al, which showed us that Gene was never at a loss for words. However, while things often got crazy on the show, as long as Gene was at the helm, it never got out of control. He always kept the celebrities in order, yet at the same time allowed them to "do their own thing" and be themselves.
Aside from the celebrities, anything and everything on MG '7X became a "comedic prop" for Gene. Not just the questions (where he gave some hillarious impressions: a vampire, a pirate, etc., and of course, the legendary "Old Man Perriwinkle"), but whatever happened to be at his disposal, particularly those that would make for good "physical comedy" bits: he broke through the onstage doors, fought w/the set pieces, beat a stagehand w/a cue card, and once even climed OVER the audience to reach the camera at the rear of the studio (how many 60-year-old men do you know who can do THAT?).
Despite this apparent "anything for a laugh" approach, there was always one group of people who were immune to his zingers: the contestants. Yes, Gene took great delight in chastising contestants who gave (to use a Rayburn-ism), "rotten answers", but he never joked about the contestants directly, nor used their funny moments, habits, etc. to get a laugh of his own. He was a most gracious gentleman and the perfect "straight man" for a comedy game show like MG '7X.
And despite the lackluster shows that followed MG, and although Gene seemed quite grumpy in those later years, there were still plenty of moments on "The Match Game-Hollywood Squares Hour" and "Break the Bank" where the old Gene we all knew and loved shined through.
So, what more can be said about Gene that hasn't already? He was a very talented man whose work will not soon be forgotten, and although we are all saddened by his passing, we can take comfort in the fact that videotape, and the reruns of "Match Game" which play every day on Game Show Network, will keep his work alive forever.
Godspeed, Gene. You are sorely missed.
-Chuck Donegan, Dec. 2, 1999
(.jpg courtesy of Steve Mynarkiewicz)