Eileen Mintz: The Ups and Downs of a Pitfall Contestant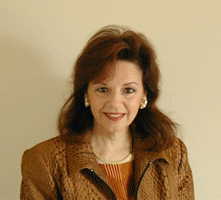 In 2005, I had the privilege of speaking with Eileen Mintz; following a successful 1974 stint as a contestant on the original "Hollywood Squares", the Washington native later appeared as a contestant on "Pitfall" in 1982, and was quite happy to answer questions about her experience. Here's what she had to say...
CD: What made you choose Pitfall as the show you wanted to get on?
EM: A friend of the family had the job there of Contestent coordinator and she recommended me to the producer. He got excited to meet me and came down from Vancouver as that was where they built the sound stage. So Pitfall chose me instead of my going after the show.
CD: What was the audition process like?
EM: Because I was chosen the audition process wasn't the same I believe as others. But I did have a personal interview with the producer while I was working as a make -up artist and he just felt I had the personality to be on TV.....he made an instant decision out of a half hour meeting. "I had enthusiasm and could think fast on my feet," he said. He also asked me what kind of prizes would I like to win. I told him that I would be thrilled to win a trip to Paris!!
CD: How did you feel afterwards? Were you confident, uncertain, etc. as to the impression you'd made?
EM: It's great to know the very day that you are accepted after a personal interview. I knew then that I had made a great impression.
CD: How soon afterwards did you find out you'd been selected? What was your reaction upon learning of the fact?
EM: Just the thought of trying to win a trip.......somewhere excited me. I couldn't stop dreaming about it.
CD: What was it like in the studio as you arrived for your 1st taping and were waiting to go on?
EM: I was given a long list to bring to the tapping. Lots of clothes changes......5 days worth I was told. Then I saw the staging area and all the elevators lined up. Awe struck at that time. I had never seen the show so I was sat in front of a tv and given tapes to watch. Then I needed to wait my turn for make-up.
CD: What was Alex Trebek like?
EM: Alex Trebek was self absorbed.......and took almost all the time in make-up. Left me all of 5 minutes before the taping. Most concerned about his looking good. He was the star and he needed the attention. He looked great! He was Canadian and happy to be in Canada taping.
CD: Anything specific you remember about the tapings that really stick out in your mind?
EM: The fact that I had to write my own mini bio so that they could introduce me. I stated that I collected cookbooks and at that time probably had 250 of them. Today I have 2, 500!! I remember feeling a little leary as I had to answer questions off the top of my head. They polled the audience and I had to guess their answers to personal questions. So tried to guess what kind of audience they were. The suggestive questions and answers surprised me. We were instructed to say anything that comes to our mind's first. So I did!!
CD: On your 2nd show, you managed to win your 2nd Pitfall Round by correctly answering 2 questions in just 6 seconds, w/no time left as you reached the end of the bridge. Did you think you'd make it?
EM: I just kept at it! Wanted to win so badly and love those prizes. Nerves and trying so hard to smile over the terror of trying to win
CD: What was going through your head at that point?
EM: OH my goodness.......I remember.........."Oh my, I hope that my friends don't think I am stupid.......feeling so embarassed now."
CD: Supposedly, Catalena ran into financial problems near the end of Pitfall's run, which resulted in a number of contestants not recieving their winnings...were you among them?
EM: Yes I was......I won lots of prizes but only received one thing. A weeks stay in Paris at the Saint Jacques Hotel.... including breakfast and dinner. I used it and went the following year. With no flight, my husband arranged for us to deliver a new 730 Boeing plan to France and that's how we got there!!
CD: What was the reaction in your neighborhood after your shows aired? Did you achieve that "mini-celebrity" status that game show contestants often achieve in their hometowns?
EM: YES....I had an interview on LOCAL TV for having been on a tv game show and won.......listed in the local newspapers with a small write-up. The talk of town with local organizations......gave little talks.
CD: Do you still have the tape of your apperances today, and if so, do you ever pull it out to re-live your 15 min. of fame?
EM: YES I do......can't believe I looked that YOUNG......and thin......though I am considered slim today. I never show it as I am embarassed as to what I couldn't remember with the trivia questions.....isn't that funny Chuck. I am so confident and yet hate to hear again the questions that I missed. Couldn't come up with all the answers all the time.
Following her appearance, Eileen served as a beauty pageant director for the 2002 Mrs. Washington competition and become a columnist for Seattle Weekly. In addition, she ran Mintz Media (LLC), a culinary PR firm which has represented a number of area chefs for over 15 years. And although Eileen passed away in early 2009, both her successful career and game show appearances have left a legacy that will not be forgotten anytime soon.